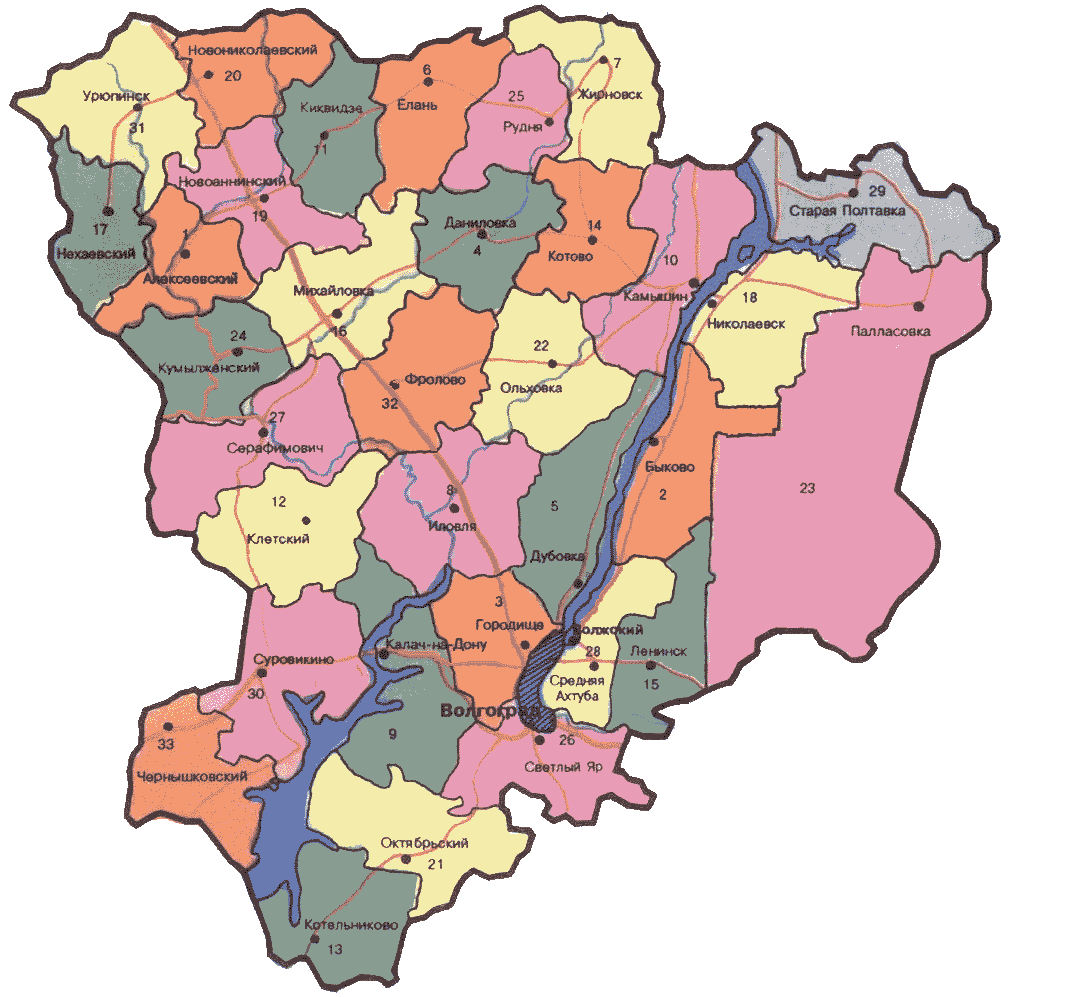 The Volgograd Region is situated in the lower Volga region, south-eastern part of the East European Plain, and is a constituent part of the South Federal District. The region enjoys favorable geographical location, being the main gate to the south of Russia with the access to Iran and Iraq through the Caucasus and to India through the Republic of Kazakhstan.
Natural conditions are favorable. The climate is continental, arid. The average January temperature is - 8-12 °C, and the average July temperature + 22-24°C. Annual precipitation totals 350 mm. The region lies in the steppe zone as well as in the dry steppe zone covered with chernozem.
The Volgograd region is one of the most industrially developed regions, which boasts the balanced economic structure: agriculture with its various branches (production of grain, vegetable oil, melons, stock-raising) is combined with different industries (petroleum and gas industry, chemical industry, metallurgy, engineering industry, etc.).
The Volgograd region's history dates back to 1919. In 1934, the Tsaritsyn region was renamed the Stalingrad region and later the Volgograd region. Initially the territory of the Tsaritsyn region was 100,000 square kilometers. The Russians and the Ukrainians accounted for the biggest part of the population. However, the territory of the region has been constantly extending and now it is 112,877 square kilometers. Its population is an example of the country's ethnical diversity as it is a home to people of more than 23 nationalities. Now, the Russians (including Cossacks), Kazakhs, Ukrainians, Armenians, Tatars, Azerbaijanians, Germans and Chechens account for the biggest part of the population.
The Volgograd region is a wonderful destination. Almost all settlements are located along two large rivers – the Volga and the Don, which feature clean, picturesque sandy beaches. Small rivers like the Akhtuba, the Khoper, the Ilovlya, the Medveditsa with their beautiful valleys are also favorable for swimming.
Now, the Volgograd region has 1,506 settlements, 32 districts (rayons) and 6 cities of regional significance (Volgograd, Uryupinsk, Frolovo, Kamyshin, Volzhskiy, Mikhailovka). Each district has its own unique history and offers exciting attractions. All the districts of the regions are distinguished by their rich ethnographic and cultural heritage. The citizens strive to preserve memory of the past, way of life and living principles of the people who inhabited this beautiful land with rich flora and fauna.
The Volgograd region welcomes guests and offers unforgettable sightseeing. The Volgograd region totals 1,164 historical sites, 9 monuments of art, 923 monuments of architecture and more than 20,000 monuments of archeology.